Team Speed Industries
The Speed Industries racing team was founded in 2008 by Tobias Welti; the owner of Speed Industries. The team is activitie in many branches of motorsports and has grown to a full size of 12 drivers from Switzerland, France and Germany.
Tobias not only wants to increase the awareness of the Speed Industries brand using his drivers. Since he is an active team driver as well, a lot of emphasis is put on team spirit. We believe that in the end, you can achieve the most with a strong bond between the entire team and the core idea that motorsport must fun as well.
Drivers briefing at a Speed Industries trackday
Apart from the drivers, the team also consists of a number of photographers and cameramen, forming the Speed Industries media-team. Together with the drivers and supporters, they travel to all the drifting events to document the happenings.
In the following sections, you can find details about our drivers and supporting organs.
Drift-Team
Drifting , meaning precisely controlling a rear wheel drive vehicle in an oversteering situation is spreading like wildfire in Europe. Originally, this crowd-oriented form of motorsport was first seen in Japan where there were drifting leagues being held already in the late 80′s.
Today drifting already has a huge culture in many parts of the world. In the USA you can't go without drifting anymore ever since the famous Formula D pro drifting league was founded. In the UK, Ireland, Germany, France, Austria, the Netherlands, Poland and many other european nations there are already big number of drifting leagues being held as well, and it doesn't look like there's an end to it!
The Speed Industries drifting team concentrates mainly on the german drifting league IDS but is also seen at events of the french league FDC from time to time.
Apart from the competition runs at these leagues, there are many very media-oriented events being held in front of thousands of spectators annually. The Sport Auto Hockenheim Drift Challenge or the Dark Dog KD Race come to mind, and the team annually participates there as well.
The Drift Team Page: HERE!
Grip-Team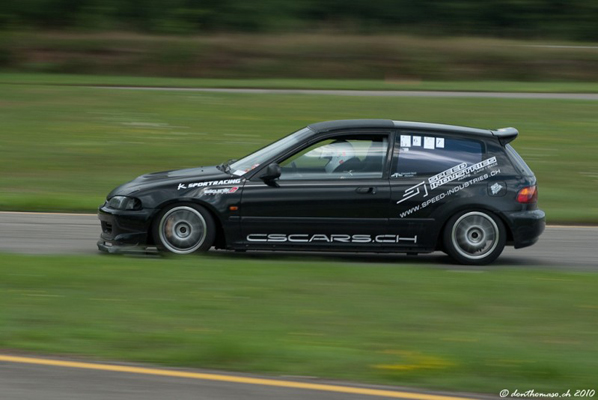 Grip driving summarizes any type of circuit, slalom, time attack or hillclimb races. This is the classical form of motorsport in which the drivers seek to get those last milliseconds out of a lap driving at the absolute limit of driver and machine. It has been around for about as long as the car has been invented.
The Speed Industries grip team holds all sorts of drivers who participate in different forms of grip driving. They are active in various slalom, time attack and hillclimb races all around Switzerland and Germany.
The driver details for the grip drivers are still under construction!
Media-Team
Some members of the media team are passionate motorsports addicts themselves. They live out their secondary obsession, photography and filming when on track with Team Speed Industries.
That's why they know exactly how to get a good shot of a car at the limit. In the case of photography and movies we believe that pictures speak more than words. Please find below a listing of our media team members and some examples of their work.
Photography
Videos
More reference movies can also be found at the Speed Industries Video-Portal .
Blog
The experiences with the Speed Industries drift team from the point of view of a drivers are shared by Alain Thomet on his blog ZÜRIDRIFT in a humorous way.